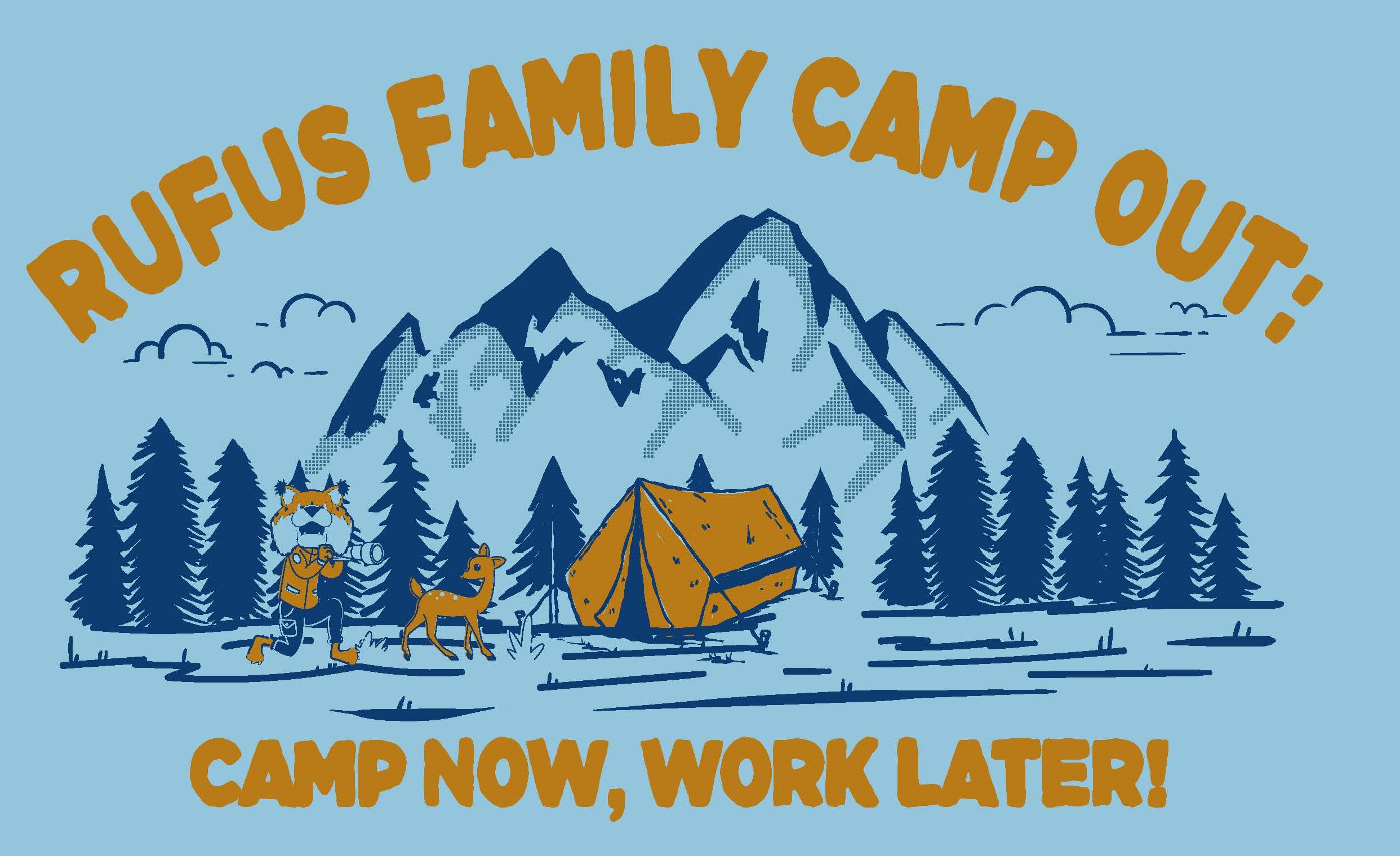 Staff Assembly is excited to welcome you to a week in the wilds of the campus and away from your desk. We have a week full of activities to celebrate your hard work over this past year and the achievements you have accomplished. Please join us as we CAMP NOW and WORK LATER!

Please select above to find the UTC!
---
We also want to acknowledge and thank our sponsors this year!
Chancellor's Office
Academic Personal Office
Division of External Relations
Division of Finance and Administration
Division of Equity, Justice, and Inclusive Excellence
Gallo Management Program
Human Resources
Office of Reseach and Economic Development
Physical Operations, Planning and Development
School of Natual Sciences
School of Social Sciences, Humanities, and Arts
Student Affairs
UC Merced Library
UC Online
---
SAW Schedule of Activities May 15, 2023 - May 19, 2023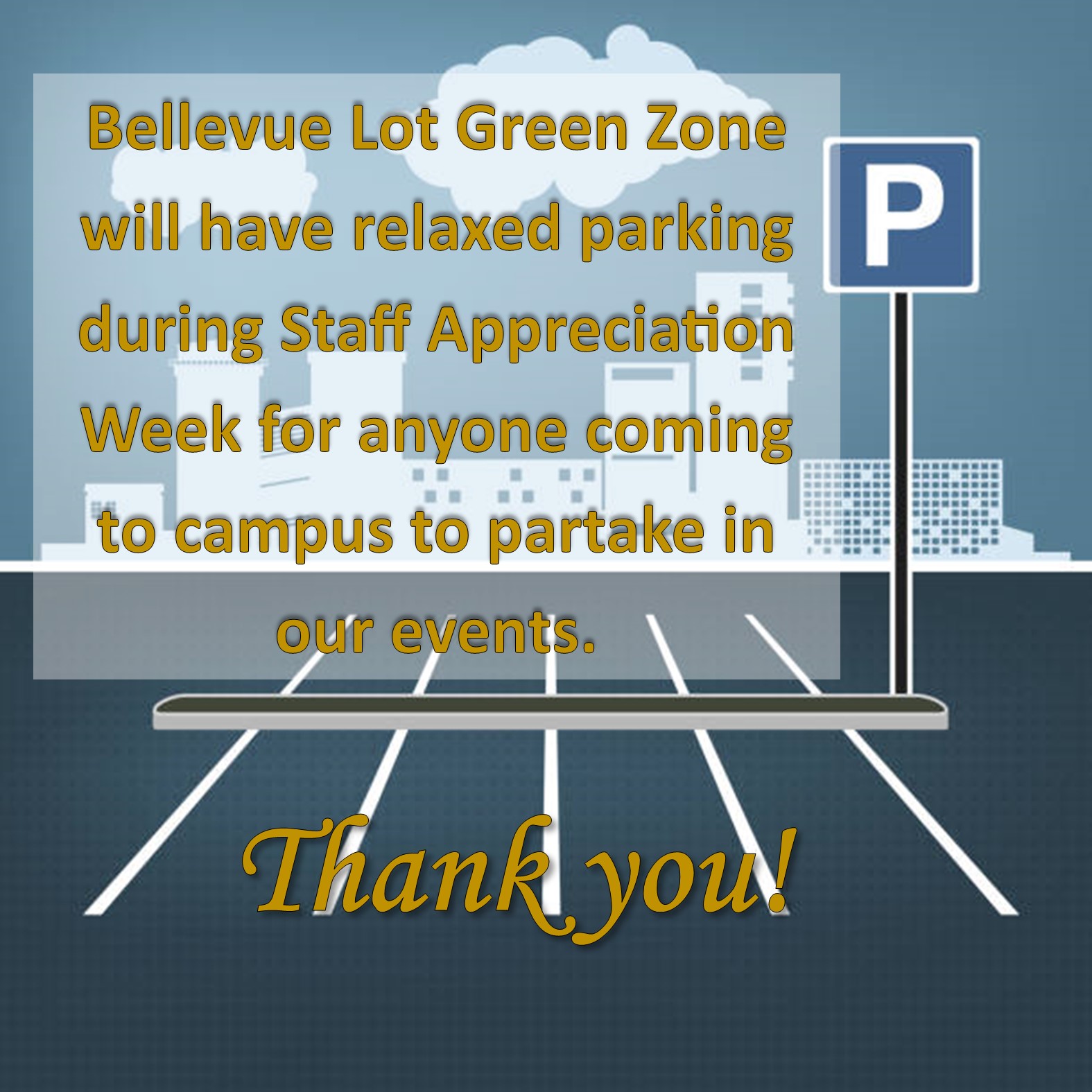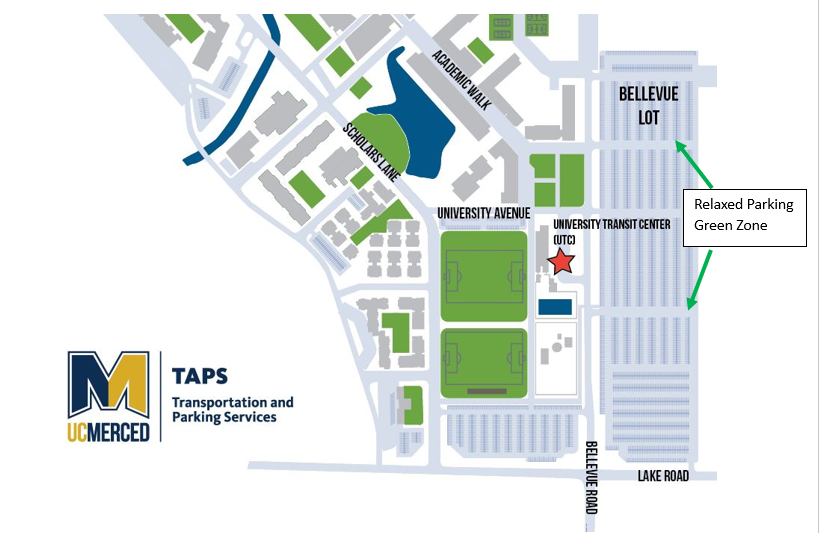 Click Here for an interactive parking map!
Enjoy a gift from the UCM Bookstore!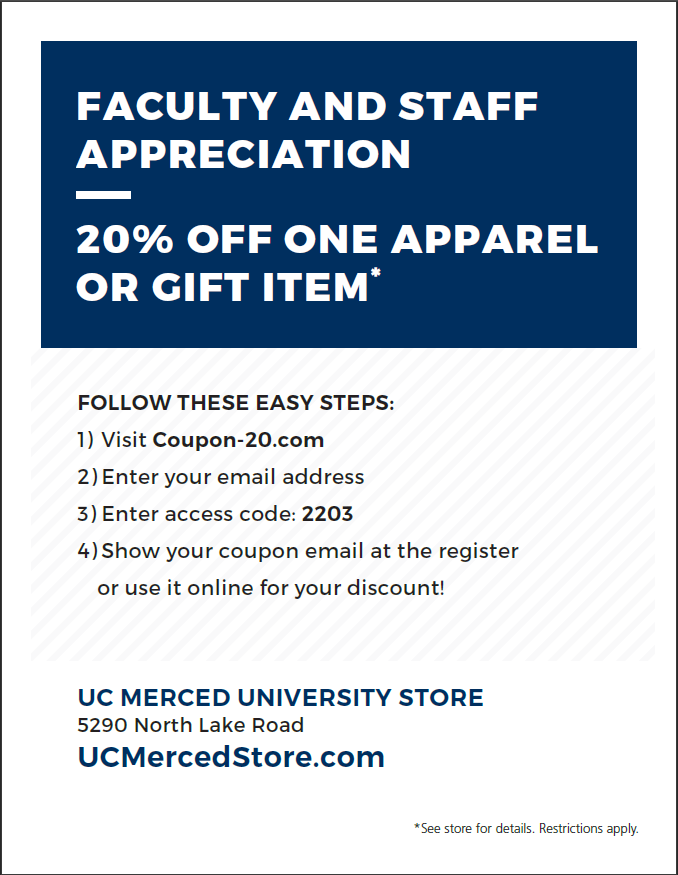 UC Move Challange - Join us for the UC systemwide 4 week Summertime Challenge! Each UC campus will have a team and compete to see which campus gets the most movement by the month's end.

UC Moves Challenge Participants Info Sessions:
Information sessions for participants and/or those interested in participating in this year's UC Moves Challenge. An overview of the program, registration process, and creating/joining a team.
Friday April 28, 2023                                                  Friday May 5, 2023
12:00 pm - 1:00 pm                                                    12:00 pm - 1:00 pm
Join Zoom Meeting                                                     Join Zoom Meeting 
Meeting ID: 829 7597 7146                                       Meeting ID: 881 5974 9687
Passcode: 885745                                                      Passcode: 631541
Wellness throughout the Week
Meditation Hour - At your convenience
  Check out and install the Calm App. It's free for UC Merced students, staff, and faculty! 
  Staff Assembly has recommended a daily meditation from the Calm app. Please check these out at your own pace.
Self-Guided UC Merced Hidden Treasures Tour
Have some free time during the day? Follow the UC Merced Hidden Treasures Tour to find all the hidden gems on our campus. Do it all at once, or visit a new treasure each day!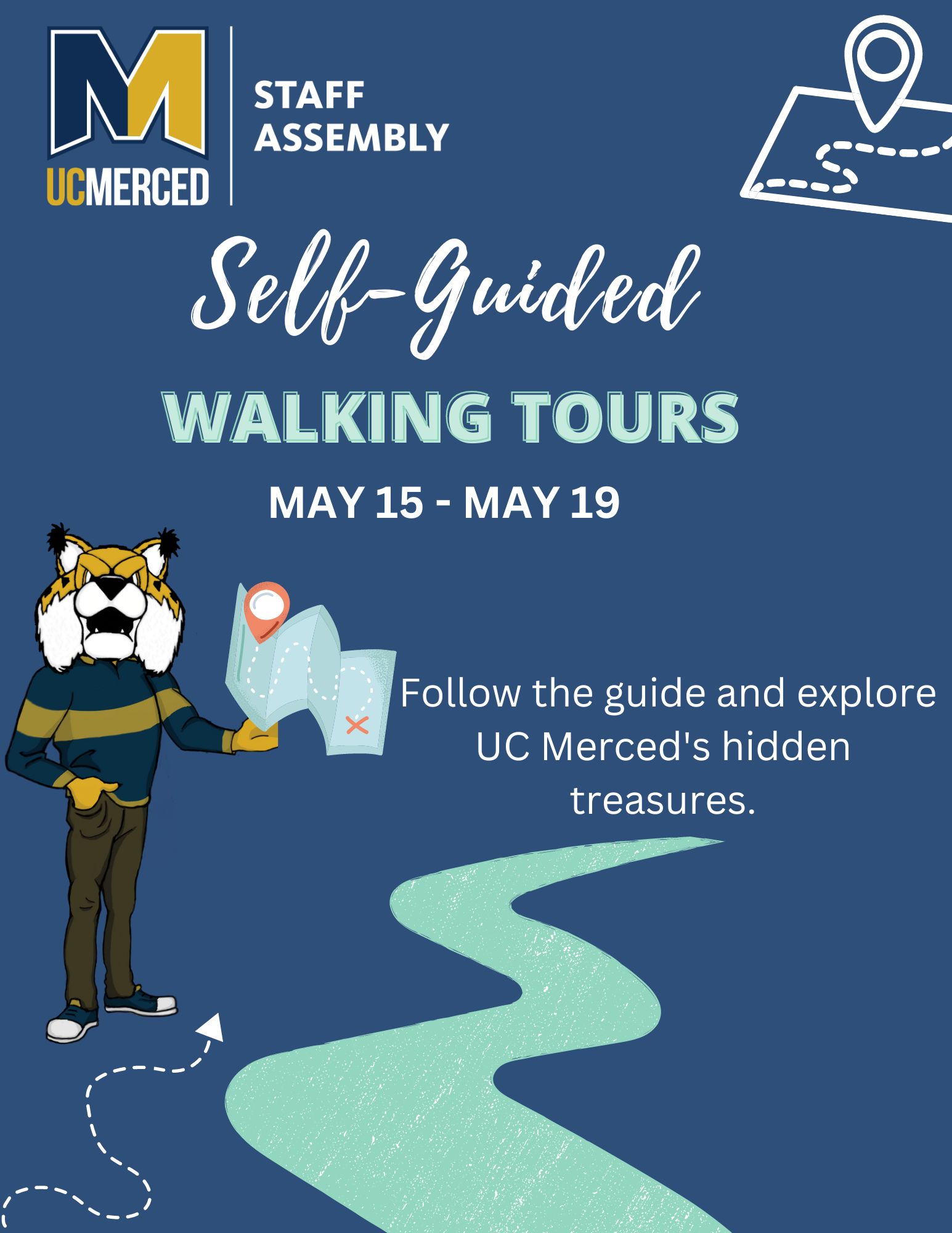 Self Service Massage Chairs
Come in, sit back, and RELAX! All week there will be self-service massage chairs located in SE2 102 for staff to come and enjoy. You can reserve a spot on the events RSVP form, but they will fill up fast! Schedule now to book your on-campus R&R.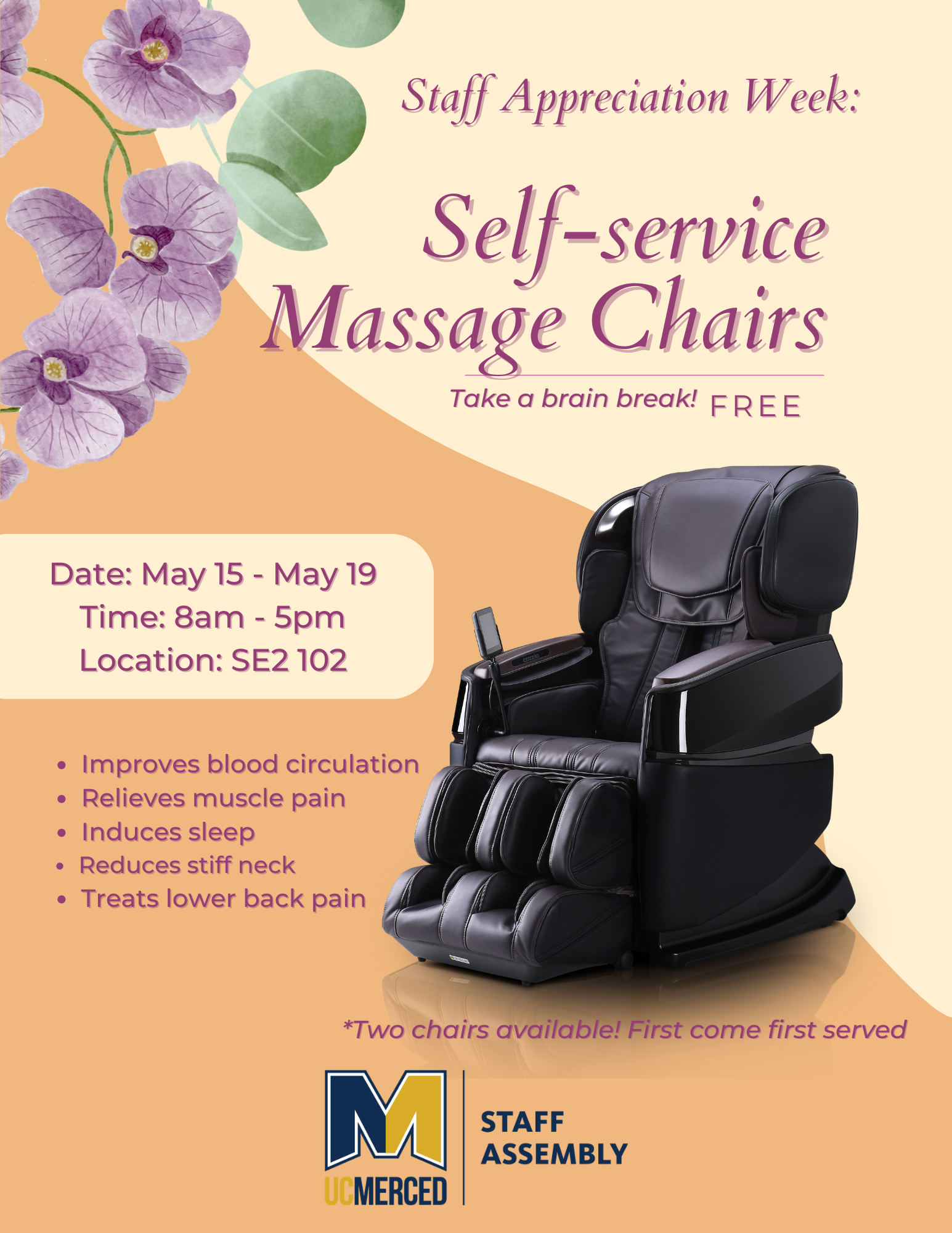 Open Recreation Events
Self Guided Art Tour and La Galería Sneak Peek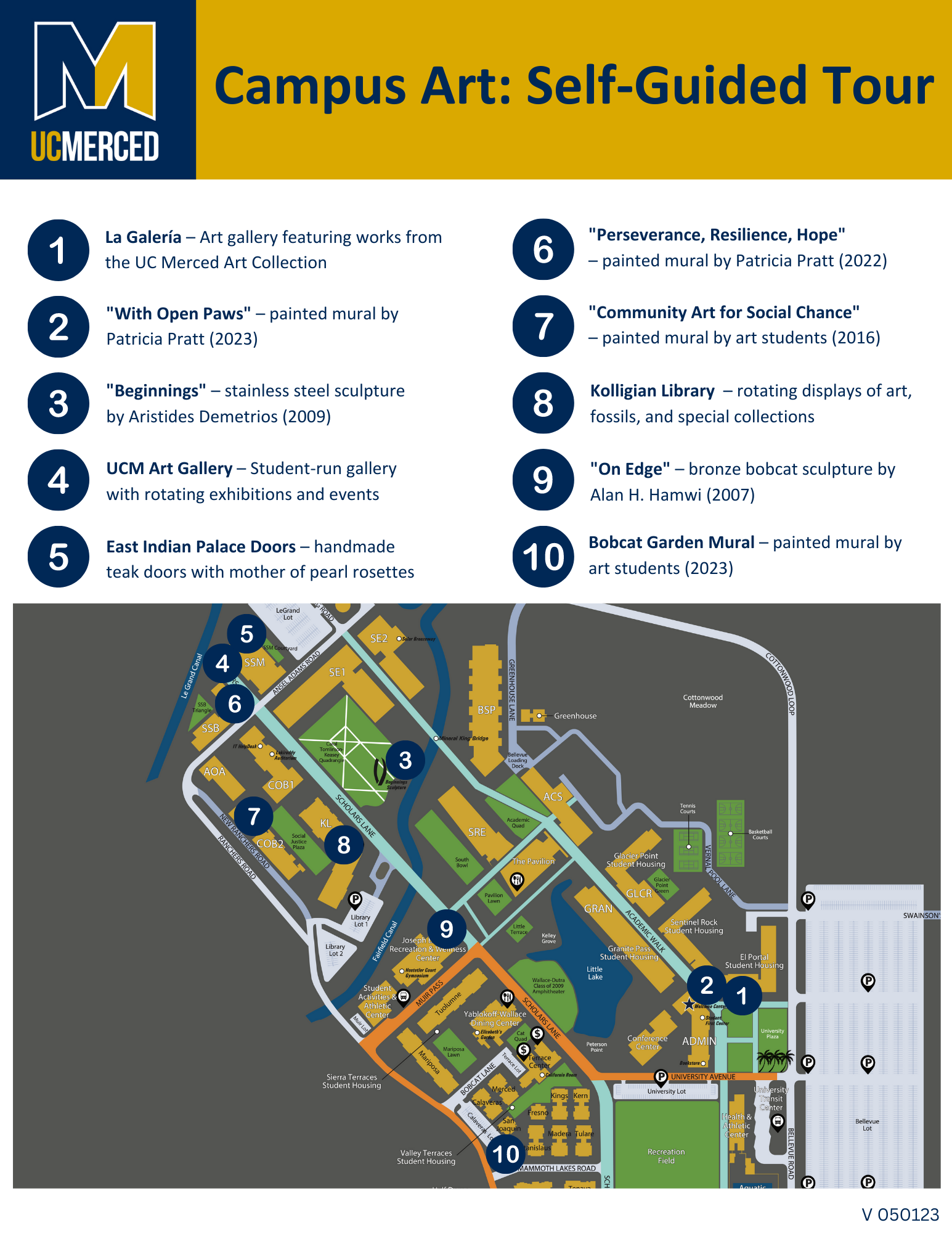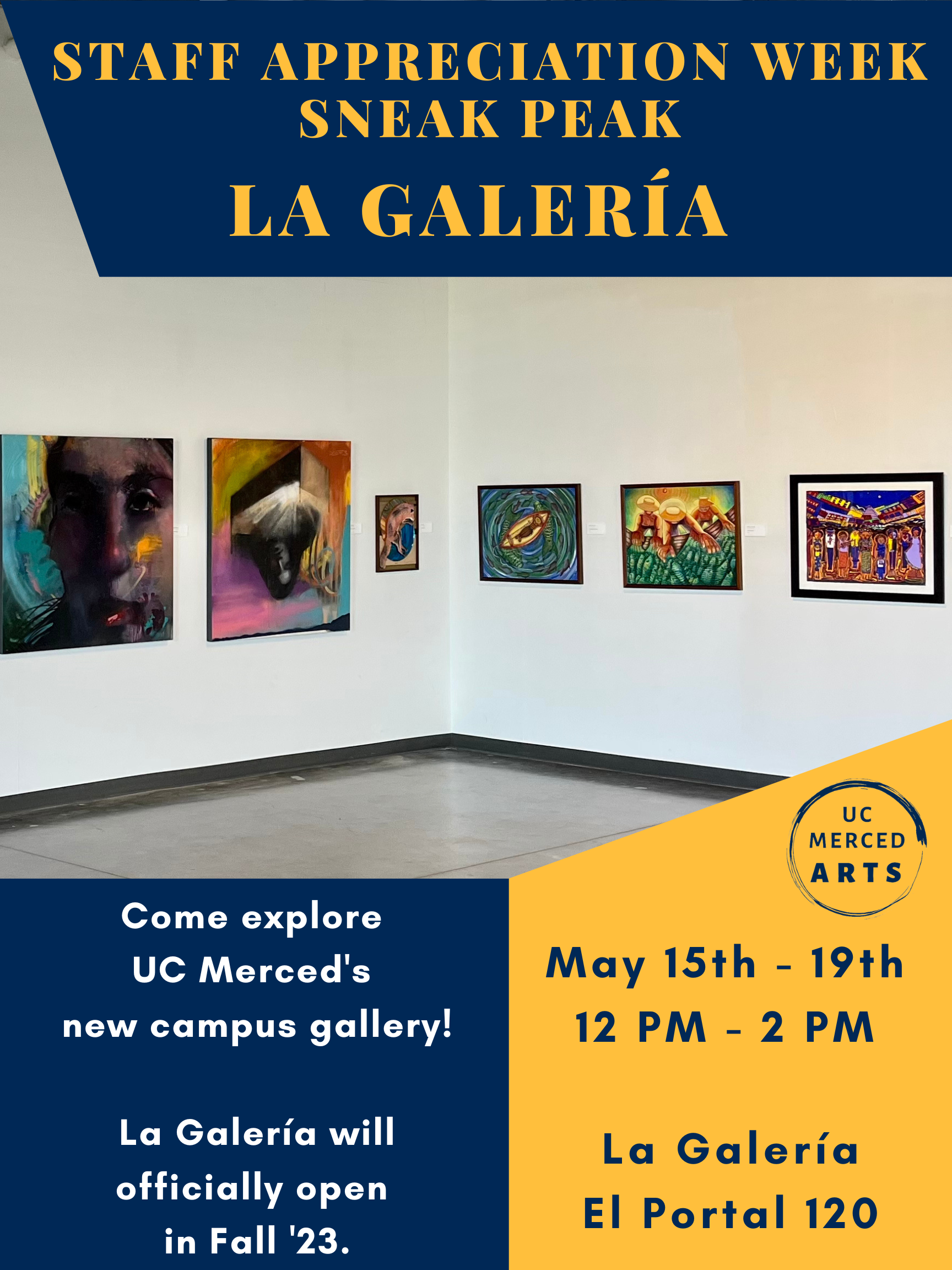 Virtual Gaming Days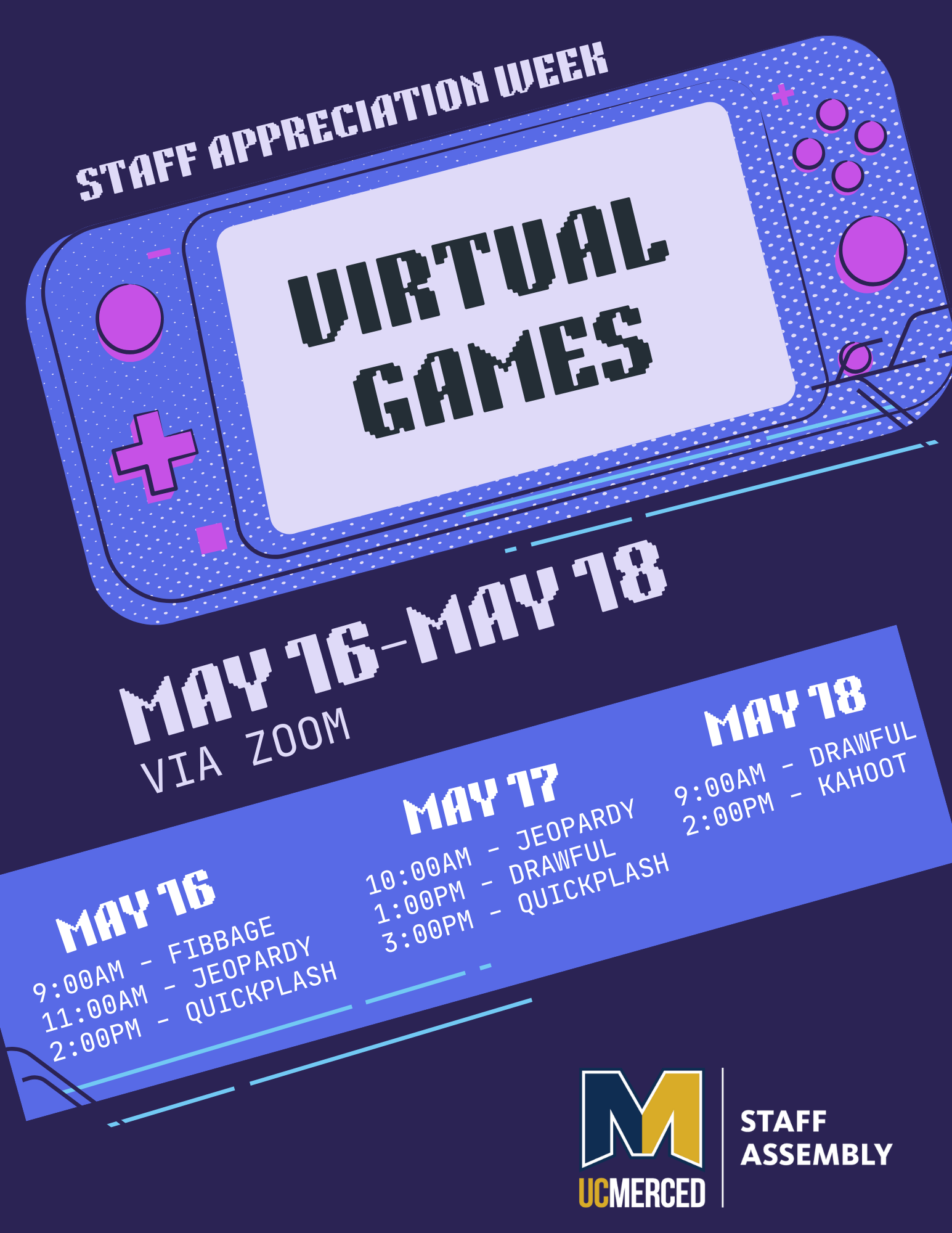 ---
Monday, May 15th 2023
Celebrating Staff Service and Staff Assembly's Staff Excellence Awards - RSVP Here
8:30am - Doors Open  ♦  9:00am - Ceremony Begins
Meditation Hour
Paint Day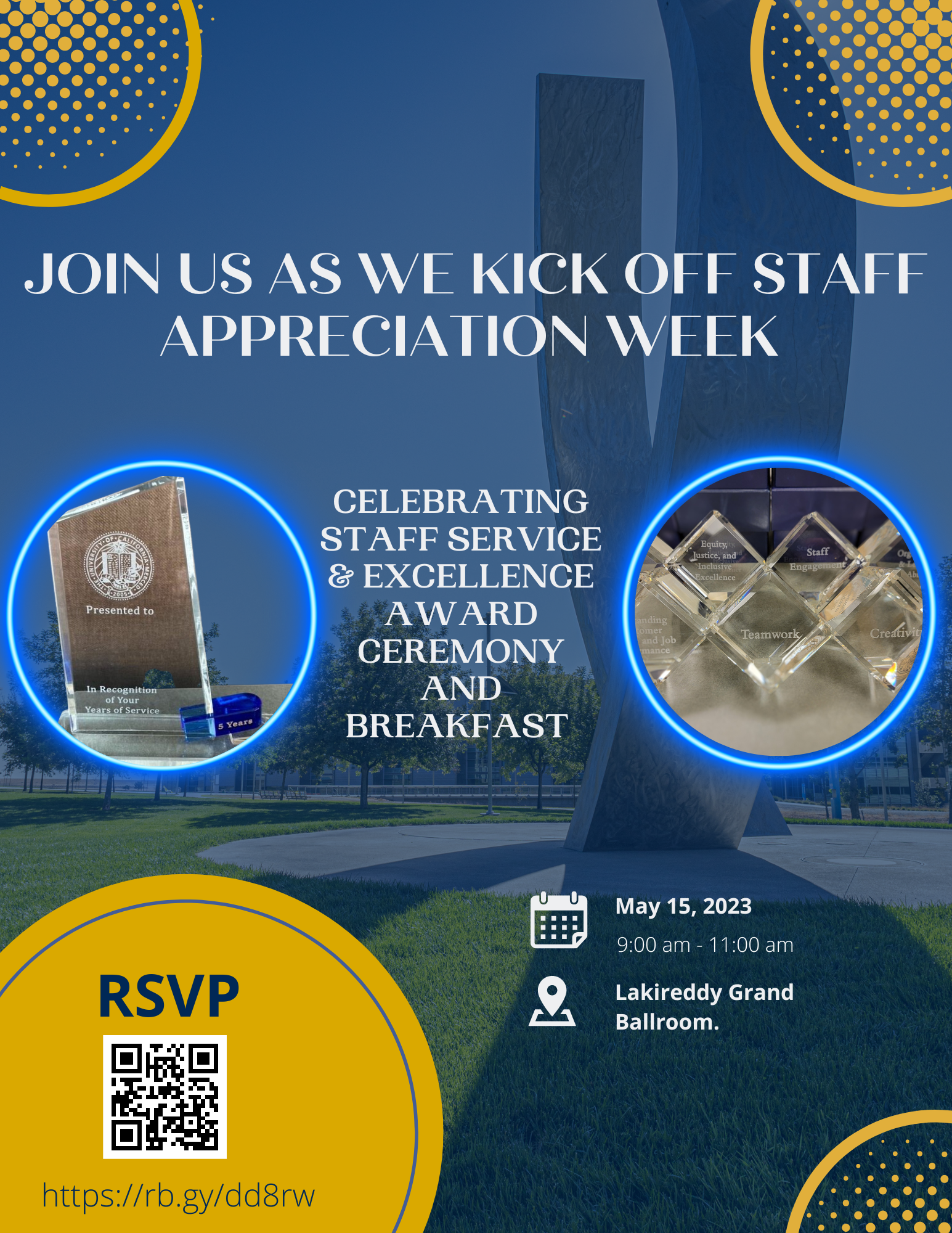 ---
Tuesday, May 16th 2023
Campus Tours
Paint Day
Therapy Animals
Virtual Games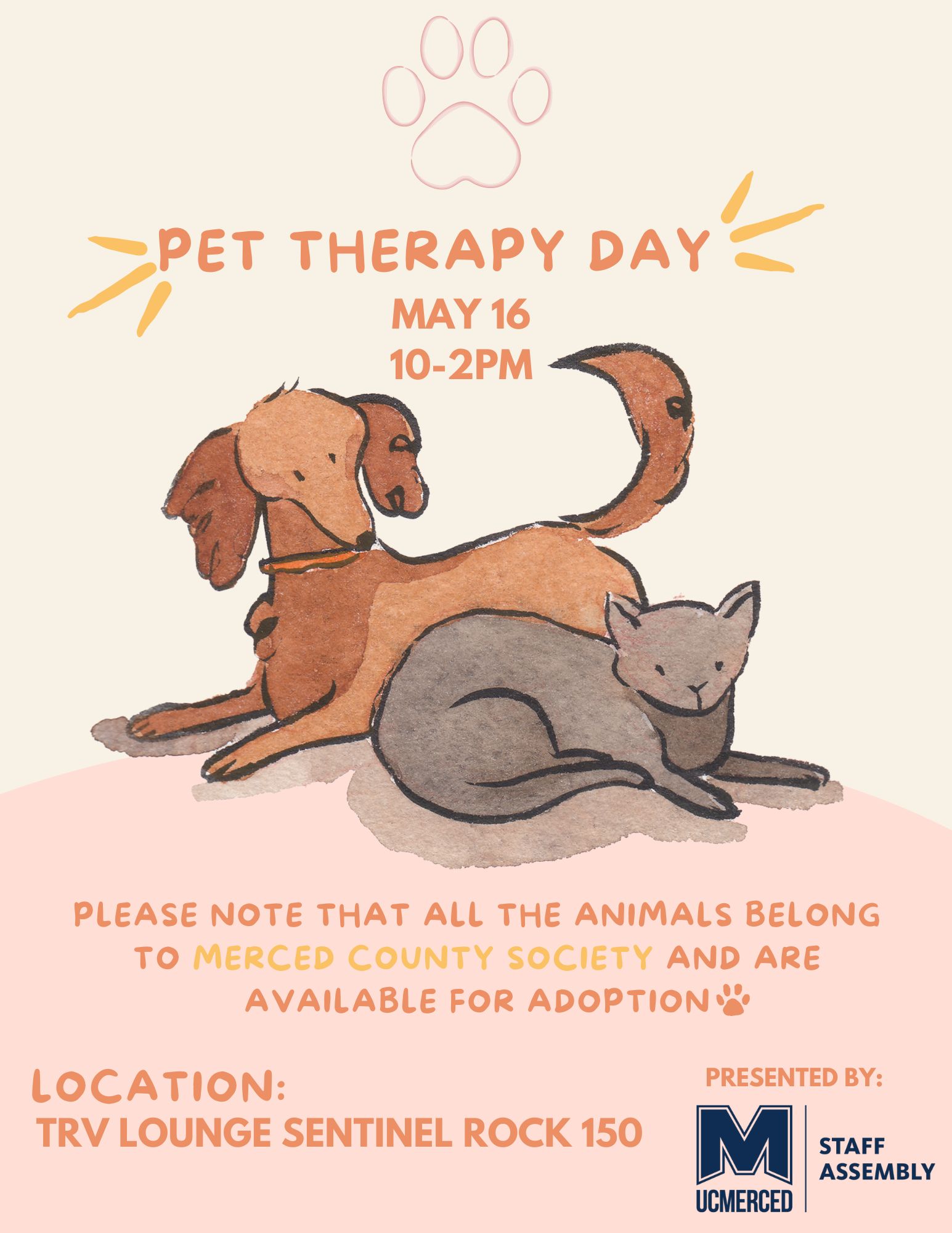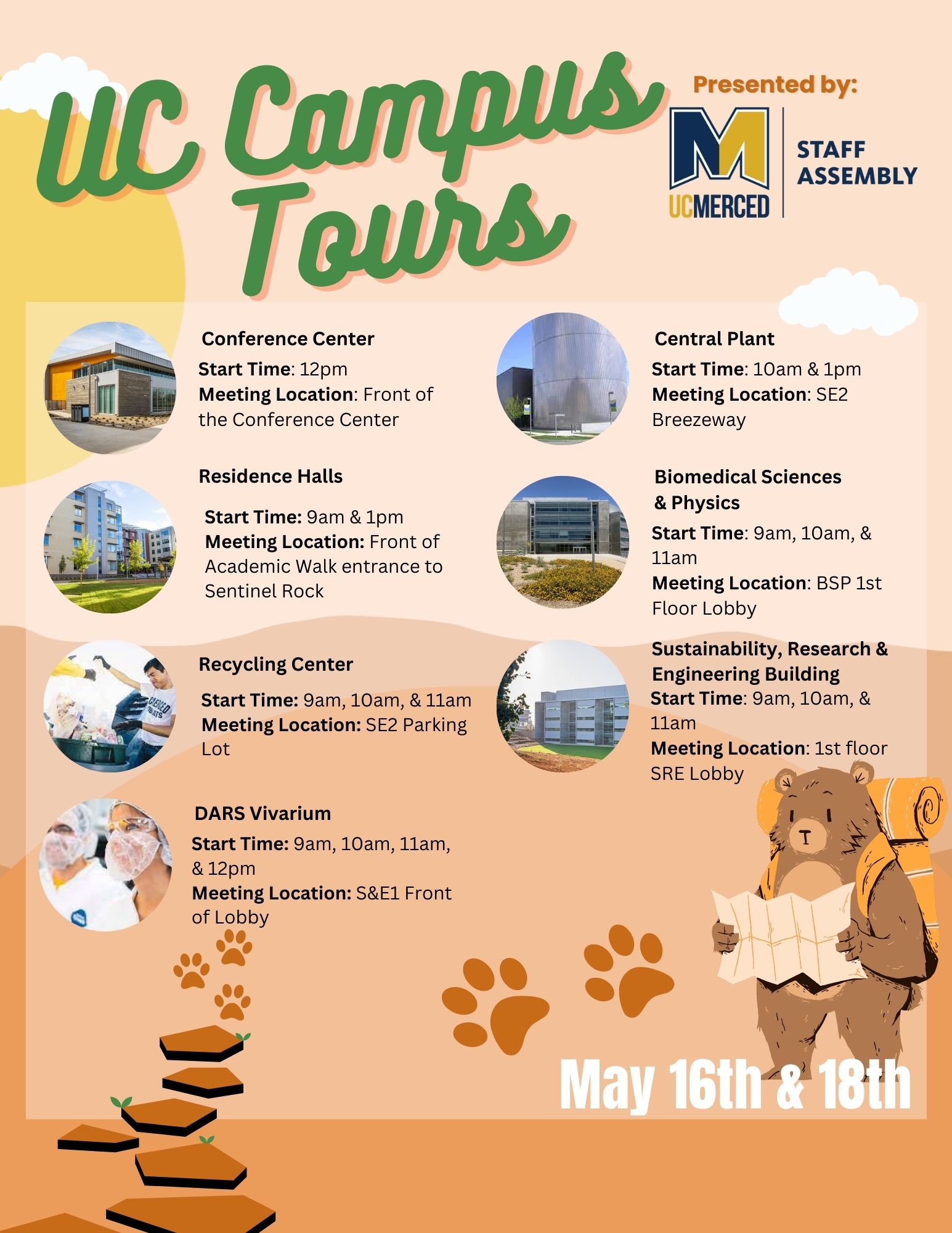 ---
Wednesday, May 17th 2023
UCM Walks
Virtual Games
Ice Cone Social - RSVP Here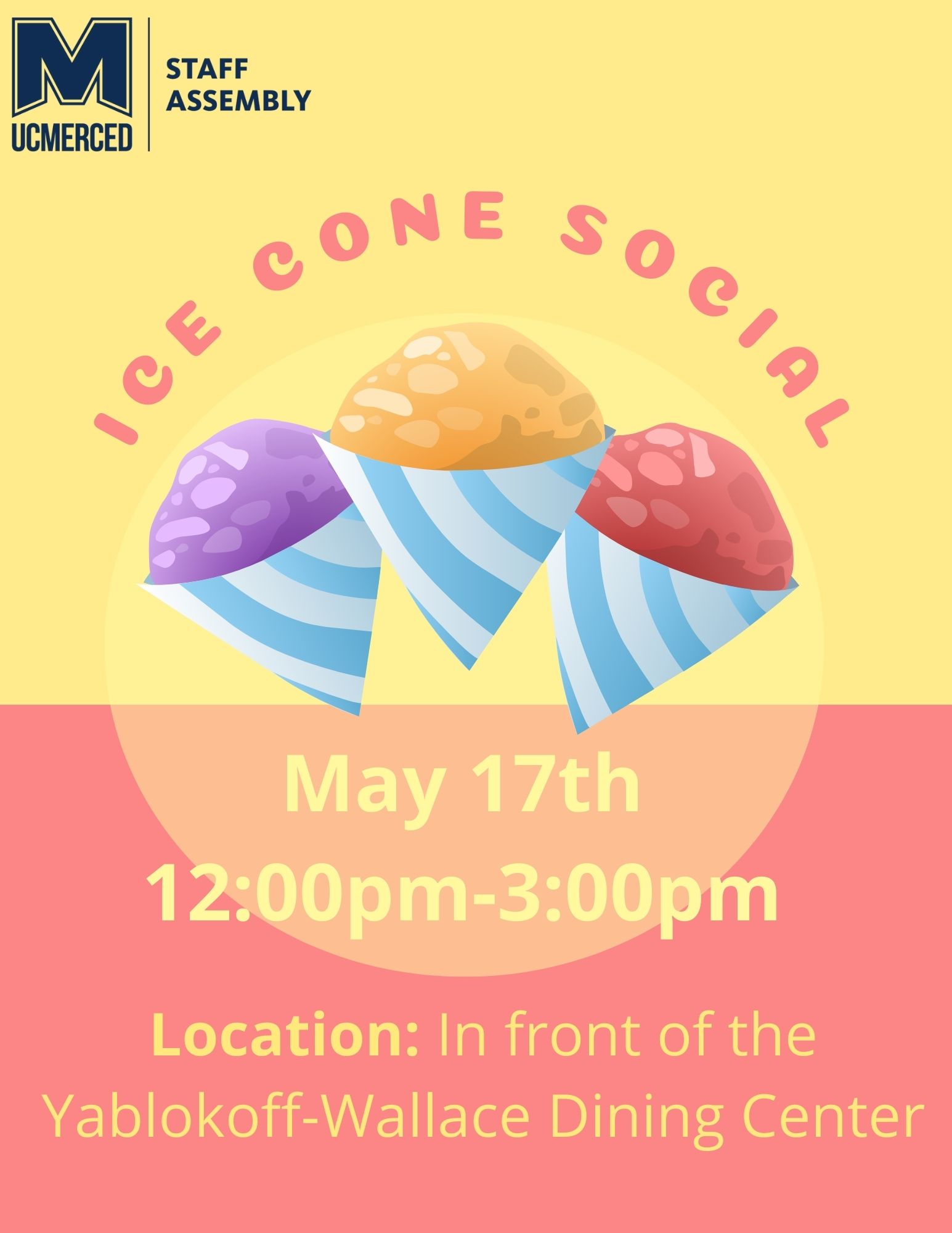 ---
Thursday, May 18th 2023
Campus Tours
HR Team Building
Online Cooking Class
Floral Arrangment Workshop
Find the recipe in the flyer and click here to join Chef Anthony!
---
Friday, May 19th 2023
Staff Appreciation Picnic - RSVP Here
UC Merced Children's Opera