Tamela Adkins
Support Services Manager, Police and Public Safety
Tamela is responsible for projects that have a significant impact on the safety and security of every person on this campus.  She exhibits consummate commitment to our University's mission and is a personification of the UC Merced's Principles of Community.  You will not hear her say "I"; her collaborations demonstrate her commitment to building teams and her philosophy is that only through partnerships will there be improvements and significant accomplishments.
Mary Treasure
Administrative Analyst, Academic Personnel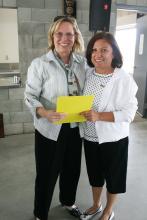 Mary excels at working with faculty, deans and staff.  She developed a training program for the School staff that handle academic personnel matters.  This year's academic personnel merit and promotion cases have improved and the academic senate review has gone much more smoothly because of her efforts.  Her compassion for others shines through in her work and was highlighted this year during the difficult times staff had over the deaths of two colleagues this year.  She supports her deparment doing whatever is necessary to get the job done.
Jan Owens
Catering Manager, Campus Dining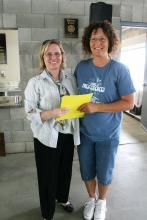 Jan is one of the first people on campus each morning and one of the last to leave in the evenings.  She provides exemplary customer service day-in and day-out, and always with a smile on her face.  Each and every event she coordinates is executed through her hard work, professionalism and commitment to her clients.  Her "can do" attitude and ability to establish rapport with her customers has resulted in Catering exceeding projected revenue expectations by more than 20% each year for the past two years.
Donna Jaramillo-Fellin
Instructional Laboratory Coordinator, School of Natural Sciences
Donna coordinates the delivery of the chemistry and physics laboratory courses.  When she arrived at UCM she was tasked with procuring equipment and supplies for courses.  She collected lab protocols from faculty, created lists of items needed and the budget required to build instruction labs from empty rooms.  She is also responsible for student and staff safety in the labs.  She is hard working, a great supervisor and mentor to her staff and TA's, she's a diplomat and a master at stretching a budget.
Erin Webb
Assistant Registrar, Office of the Registrar
Erin is a multi-talented and multi-tasking staff member who may be given any tasks, project or program.  She is sought out throughout the campus to participate in or to chair committees and events.  She is constantly looking at all processes and developing better ways to do business while focusing on whether or not the change will be beneficial to students, other staff members or any other member of the community.  She effectively builds bridges through participation on Staff Assembly, Orientation Committee and other task forces.