Alisha Kimble
Manager of Student Services, SSHA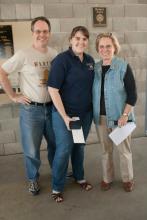 Alisha was entrusted with creating, building and expanding advising services from scratch. She is the backbone behind the school's role in every recruitment/yield/retention event.  She is able to convince faculty to attend events and do things most mortals continuously fail at. For every one student who wishes to decide to transfer away from UCM, she works with 10 in helping them to understand that UCM is the right place for them. She is that effective.  She had offers from other campuses to work in advising, and even through all of the growing pains of a new university, she chooses to stay and work with OUR students.  She is a model for how student advising should be.
Marcie Barrick
Accountant, Student Business Services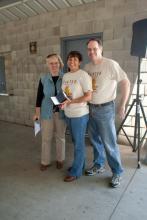 Marcie has demonstrated a strong commitment to improving daily processes, accuracy of data in general ledger accounts, and customer service to external departments. Her complex analysis of the transaction detail codes used by our office has resulted in a number of changes that has improved accuracy of the data in our system and in the general ledger. She has implemented a plan for improving reconciliation of the departments 70+ general ledger accounts. She is a consummate professional and the epitome of an excellent employee. She is a very thoughtful person and the best team player one can desire. UCM is fortunate to have her as an employee.
Jason Martin
Administrative Analyst, Administration
Jason convened a web page focus group drawn from members of the campus, plus the web resource staff from UCM Communications to begin the development of a new web page. He continuously refined the web page layout and search strategies based on feedback. He also reached out to the campus students to include links to student sustainability web pages on our campus sustainability web page. He provided leadership for this focus group to craft a new logo and the committee motto. Users on campus and around the nation are already using the UC Merced new web site as a resource for learning about our campus's leading-edge sustainability vision.
Rena Schneider
Operations Specialist, Financial Aid and Scholarships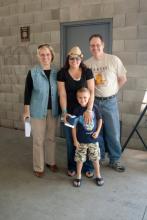 Rena has made enormous changes that have led to streamlined processes, increased automation and ultimately, better service for students. She is always thinking of innovative ways to improve our systems and improve the document flow in our department. This nominee took the initiative to teach herself a software program that allowed her to convert nearly all of our financial aid forms into workable PDFs. She simultaneously implemented error checking into the forms and she is continually in search of new and innovative ways to do things. She thinks critically and creatively in all that she does and inspires others around her to do the same.
Shannon Runyon
Management Services Officer, University Relations
Shannon played a critical role in a number of areas surrounding Commencement 2009. She coordinated, developed and maintained the complex budget and kept detailed track of actual expenses. When we received the call that the First Lady accepted the invitation, she worked tirelessly through late evenings and weekends-all weekend, every weekend, until Commencement. Never did she waiver in her positive, can do, teamwork demeanor. This nominee demonstrated extraordinary leadership as issues would constantly arise and she thoughtfully handled each one. She is an outstanding ambassador for the university who performs with "excellence" every single day of work.