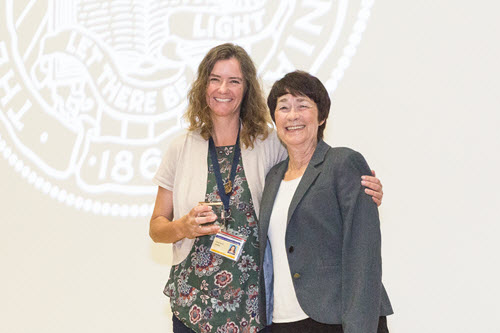 Staff Excellence Award in the Category for Organizational Leadership was awarded to Chelsea Arnold:
According to the faculty member who wrote the winning submission for this staffer, she represents the top talent at UC Merced. Managing and developing CalTeach, a program that allows students majoring in STEM to explore careers in K-12 education, is a challenging task, particularly given its size and complexities.
By every single indicator of the program's success – from recruitment to mentorship of students and management of the personnel – this staffers leadership has made a significant positive impact on both day-to-day operation of the program as well as its growth and development. In addition, she also spearheaded an impressive number of new initiatives and activities that greatly benefit students and local school partners including:

CalTeach Teacher Summer Institute
Caring Kids internship program
NatureBridge Externship program
CBEST/CSET test prep workshops

She has also worked extensively with faculty to start the Research in Action program, which helps faculty members to develop and to implement effective and sustainable educational projects included in their grant proposals. Chelsea is an inspiration and an incredible resource and support to UCM students as well as a tremendously valuable colleague to the campus staff and faculty.