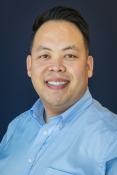 Biography:
Alvin Cha has been part of the UC Merced community since 2007 when he began his education here as a first-generation college student. Shortly after graduating from UC Merced with a BS in Management, he attended CSU Stanislaus and earned his Master of Business Administration degree.
Before joining the Division of Management and Information as the Gallo School Program Assistant Director, Alvin began his career with UC Merced in the Office of Admissions where he managed and oversaw the systems and processing team. He also provided admission advising to prospective students, parents and advisors at the local high schools and community colleges. He later joined the Office of the Registrar and became an Assistant Register where he oversaw the university's degree audit program, lead the transfer credit processing team, and provided technical support on the university's catalog and course proposal systems.
During Alvin's years of service here at UC Merced, he has been involved with the alumni board, staff and faculty workgroups, and campuswide committees. He's served on UC Merced's Alumni Association Board as a board member for 4 years where he was Chair of the Student Alumni Relations Committee. He is also actively involved with UC Merced's Staff Assembly, having served as Finance Office, Vice President, President and is currently the Immediate Past President.
Department:
Management of Complex Systems